Igniting Diplomacy: MUN Conference Begins with Inspirational Opening Ceremony
Published on : September 15, 2023 at 06:03 AM
Published on : September 15, 2023 at 06:03 AM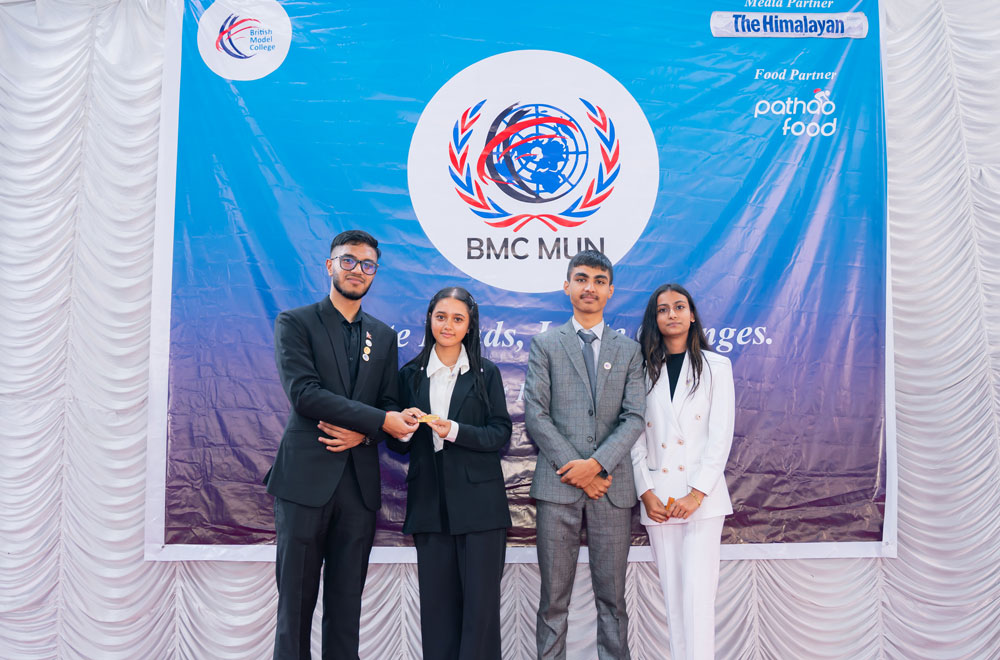 The Model United Nations (MUN) conference began with an impressive opening ceremony at 9:46 AM. The anticipation and enthusiasm among the participants were palpable as the gathering united in singing the national anthem, symbolising the shared commitment to collaboration and diplomacy. The ceremony was marked by profound speeches, a reminder of the power of dialogue in resolving conflicts and shaping the future.
Programme Manager, Rajan Kumar Rai took the stage to deliver a thought- provoking speech, emphasising the significance of peace talks in resolving global conflicts. In a world often
marred by division and discord, Rai's words served as a beacon of hope. "Let the young generations be the ones that rise up to fix the problems instead of just pointing out the issues", he passionately stated. This call to action resonated deeply, inspiring attendees to realise their potential as catalysts for positive change.
The badge distribution ceremony that followed held more than formality; it embodied the participants' shared purpose throughout the conference. As badges were given, the attendees were reminded of their roles and tasks they had to commit to. At 10:15 AM, the dais took the stage to illuminate the agendas of their respective committees. With passion and insight, they shed light on the pressing global issues that would be deliberated upon over the course of the conference.
The pinnacle of the opening ceremony then arrived when the Director General delivered his speech. With eloquence and determination, he set the tone for the conference ahead. As the ceremony concluded, the participants dispersed with a shared sense of purpose. The opening ceremony had not only marked the beginning of the conference but had also ignited the flames of diplomacy, inspiring delegates to strive for solutions that transcend borders and foster unity in a diverse and interconnected world.
The opening ceremony laid the foundation for days of intense debate, collaboration, and negotiation. The speeches by Rajan Kumar Rai, the dais representatives, and the Director General reaffirmed the importance of dialogue, diplomacy, and the potential of the young generation to shape a more harmonious and equitable world.
By Garima Shrestha