About the Course
The BSc (Hons) Computing Programme is a course run in partnership with Leeds Beckett University, UK, that gives students the unique opportunity to gain a British degree from right here in Nepal.
The curriculum provides detailed knowledge of the key aspects of computing, from the forefront of the discipline - and gives students the ability to undertake computing projects at a professional standard, by the consistent application and review of development, management, and evaluation methods and techniques.
Students studying this course will gain highly sought-after skills in computer programming, database development, networking, website development, systems modelling, and computer security - which are vital for gaining entry into organisations which demand confident and technically equipped computing graduates.
This wide breadth of understanding enables students to be enterprising when devising and sustaining arguments, and further teaches them to solve problems using innovative ideas - by implementing learned techniques in a multicultural and globalised world.
These are vital skills for gaining entry into organisations which demand confident and technically equipped computing graduates.
Programme Objectives
This course is equivalent to the BSc CSIT and BIT in Nepal.
Work on real-world projects, focusing on specialist areas of the student's choice - including web technology, network and communications, database and software development.
Gain experience in co-operative working through group projects.
Develop professional-level skills in technical and report writing, public speaking, and presenting.
Graduate with the ability to independently undertake research and critically evaluate arguments, assumptions, abstract concepts, and data.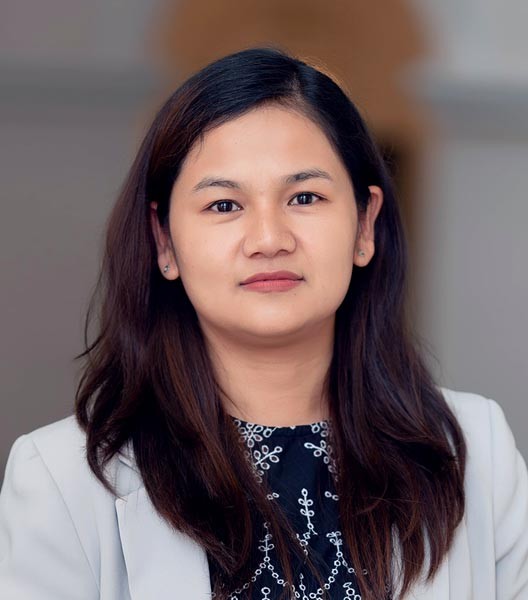 Anita Gurung Rana
Programme Leader, BSc(Hons) Computing
On completion of the programme students may proceed to a postgraduate course in a related subject area. The British College also has a number of industry links through which students can obtain placement opportunities. Alternately, our students will be fully equipped to create their own company or progress to a career in roles such as (but not limited to):
Software Developer Or Engineer,
Web Developer
Database Developer Or Administrator And
Network Architect And Technician
Data Analyst
Mobile App Developer
After you Graduate
I have been thoroughly impressed with the quality of education, support, and resources provided at The British College. The instructors are knowledgeable and passionate about their subjects, and are always willing to go above and beyond to help their students to succeed.
Testimonials