"Start in Nepal & finish in Dubai and London"
The *new* BA (Hons) Hospitality Management (BHM) programme, run in partnership with UK University, is a truly international degree that offers students the unique opportunity to complete the Level 3 at the British College, Level 4 & 5 Pearson Diploma in Dubai, and Level 6 in the UK or Dubai. It further gives students the chance to gain hands-on experience from paid internships, and earn money while they study.
Course Introduction
Run in partnership with UK University, UK and Pearsons, this course has been designed to engage, enable, and challenge students to become creative, entrepreneurial, and critically informed dynamic graduates - who can excel in their chosen field of hospitality, or progress to further study within hospitality business management.
Students will begin the course here at The British College, in Kathmandu where they will complete the foundation level. Central to the course is the strong links between theory and practice, so teaching will take place both in our classrooms and in state-of-the-art kitchens and restaurants.
Students will then complete the Second and Third years of the programme at our partner institute in Dubai, The Woolwich Institute. Whilst there, students will have the chance to receive practical experience with paid internships that let them earn while they study, and after their third year has been completed, will receive a Level 5 Pearson Diploma. Students who then choose to progress to the Level 6 and will complete their final year in the UK and be awarded with a full undergraduate degree from UK University, UK.
Why The British College?
The opportunity to study in the UAE and the UK.
Receive a degree from a top British university.
Earn money and experience from paid internships while you study.
Learn in our state-of-the-art kitchen and restaurant facilities.
Programme Features
Diverse teaching methods are used throughout the course - including lectures, seminars, tutorials, workshops, practicals, and fieldwork.
A safe and creative learning environment is provided throughout the course.
As students progress through the course, they are encouraged to become increasingly independent learners and thinkers.
Learn to create and sell products and services related to the hospitality industry.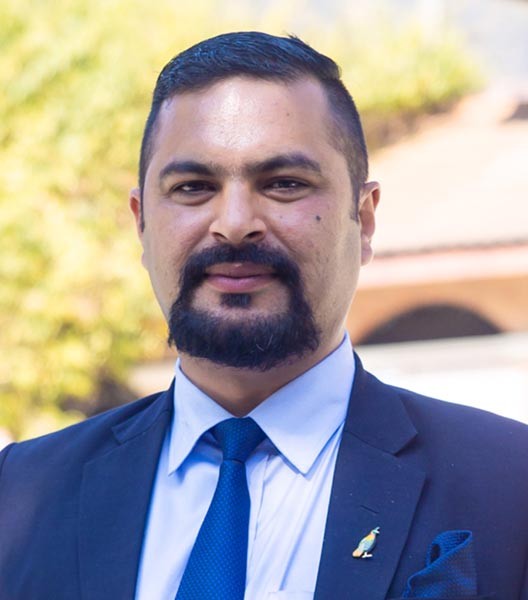 Jeetendra Rokaya
Programme Leader (BHM)
Why BA (Hons) Hospitality Management (BHM) at The British College?
Chance to start your BHM journey in Nepal and finish at either Dubai or London
Receive a degree from a top British university
Get experience as well as earn money while you study through paid internships
Learn in our state-of-the-art kitchen and restaurant facilities
TBC is required by Pearson to ensure that every student we enroll has a reasonable expectation of success on the programme. All applicants must be at least 18 years of age.
Applicants aged over 21 years at the start of their course and who have been out of education for at least three years are classed as 'mature students'. The prior qualifications and/ or work experience of such applicants will be reviewed by the College to consider if their individual profile shows they have the potential to achieve the qualification. If we believe it does and all other requirements of the admissions process are met, such applicants may be enrolled.
For those who have recently been in education, the entry profile is likely to include one of the following:
A relevant BTEC Level 3 qualification
A GCE Advanced Level profile that demonstrates strong performance in a relevant subject or adequate performance in more than one GCE subject. This profile is likely to be supported by GCSE grades A* to C and/or 9 to 4 (or equivalent) in subjects such as Maths and English
Other related Level 3 qualifications
An Access to Higher Education Diploma awarded by an approved further education institution
Related work experience
An international equivalent of the above.
Entry Requirements
Our students will be fully equipped to create their own company or progress to a career in roles such as (but not limited to):
Operations Manager
Customer Service Manager
Hotel Manager
Food and Beverage Manager
Chef
After you Graduate
Find out more about the course structure of this programme.
Course Structure