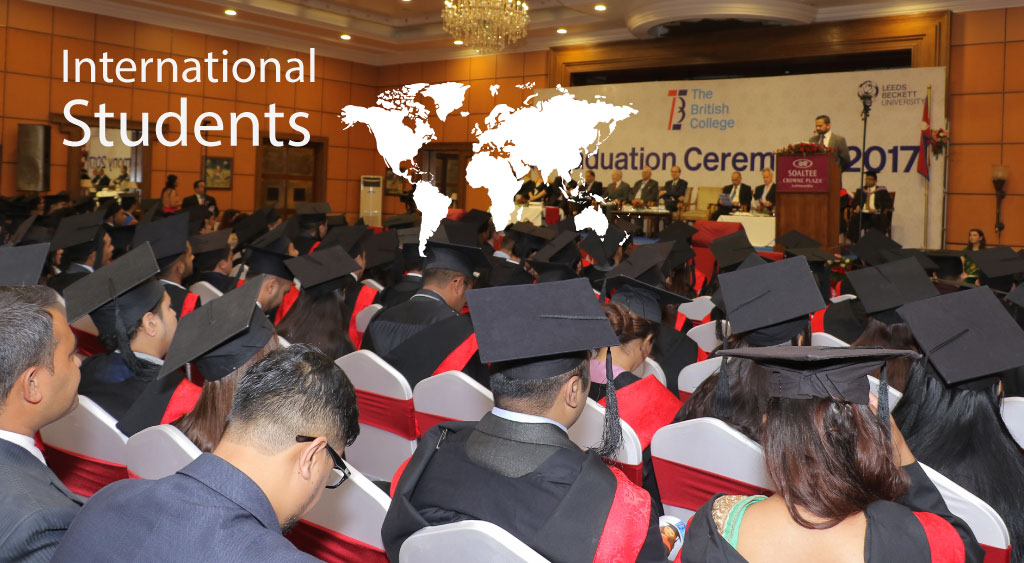 TBC registers the best and the brightest students and consequently, offers an unforgettable academic experience transcending international boundaries with thought-provoking incision.

We offer degrees from internationally recognised UK universities offering the same reputable qualifications as you would get if you were studying in the UK, but with the comfort and cost-effectiveness of studying in Nepal.

The British College considers international students as a valuable asset, as they give the college an opportunity to showcase the excellent learning environment overseas. The British College is proud to have welcomed students from China, India, Bangladesh, Afghanistan and Mauritius.
Enrollment Process for International Students
Students can apply for the desired course online or download the TBC application form and email the scanned copy to: admissions@ thebritishcollege.edu.np
Have a recent digital photograph ready to upload with your application.
The Admissions Department will review the application forms and forward to the appropriate UK University for further screening
The British College will then provide an offer letter if your application is successful.
The student needs to make payment to The British College after which TBC will provide an acceptance letter.
Students can then apply for a student visa with a valid passport.
Students from SAARC countries can apply for a tourist visa and change their visa status after their arrival in Nepal. For non SAARC countries, students may have to visit the nearest Nepalese Embassy in their country.
A visa cannot be obtained on arrival for citizens of the following countries; Afghanistan, Iraq, Cameroon, Ghana, Somalia, Swaziland, Palestinian Territory, Zimbabwe, Nigeria, Ethiopia, Liberia.
Documents required for Visa
Admission letter from the Academic Institution.
Bank balance to provide evidence of sufficient study funds.
Passport and copies of your Passport along with a copy of the latest visa page.
Registration with the Admissions Department: After the payment process, the students will be registered at the college for their chosen course and they will receive a letter of acceptance.
Attain valid visa: International students must have a valid visa before travelling to Nepal. For more information on the Visa process, contact the Admissions Department.
Collect necessary documents for visa application: International students require documents from the TBC in order to obtain an appropriate visa. The Admissions Department are ready to provide all the necessary details are available to assist you in this process.
Arriving to college: After receiving the offer letter from the college, international students need to pay the course fee for their first year.
Accommodation: Students need to book their accommodation through the Student Services Department if they do not have their own arrangements in Kathmandu. TBC is associated with numerous hostels with a range of facilities for international students.
Documents Checklist
The following documents should be in your hand luggage as you travel
Passport (containing your student visa) and ID card if applicable
Acceptance letter from TBC
Evidence of your funding – sponsor letter or bank statement used to obtain your visa • Printed confirmation of your accommodation, including address
Airport pickup confirmation e-mail (if applicable)
OTHER TRAVEL ITEMS FOR YOUR HAND LUGGAGE
Nepal experiences different weather conditions in all four seasons. The weather is much cooler than other South Asian countries so bring warm clothes. It is advised to check the weather in advance and pack accordingly.
Financing Your Education
We understand that financing a college degree is just as important as choosing one. Our scholarships and performance-based waivers have helped numerous students accomplish their dreams of getting an internationally recognised degree. With proper consultation and guidance, we ensure that both national and international students receive support in order to pursue their course. TBC provides British degrees at local cost.
Fees Structure
The fee structure of the courses offered by The British College may vary in regards to the students' country of origin.
For international students from SAARC countries there is a 25% increase in local fees.
For international students from other countries there is a 50% increase in local fees.
For further information please contact: +977 9801134304

Scholarships
During admissions, a short discussion with admissions department can give students an insight into the scholarship schemes we offer at TBC. We understand that student finance is a complex matter and so we attempt to make your studies as stress-free as possible with these opportunities.