Ask the Alumni - Shalin Pokharel
Published on : November 30, 2021 at 10:28 AM
Published on : November 30, 2021 at 10:28 AM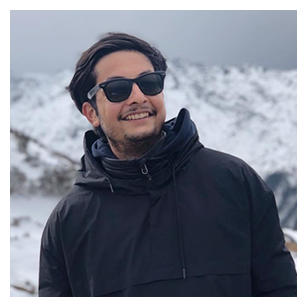 This month's alumni is Shalin Pokharel, who graduated from The British College with a BBA (Hons) Business and Management degree - majoring in Finance. Since graduating, Pokharel has experienced great success working with Upaya City Cargo as the Marketing Lead, to offer intra-city logistics solutions. So, as we just celebrated graduation, we decided to ask how his time at TBC has helped him and see what advice he has for our Graduates of 2021.
Hi Shalin! So, as this is graduation month - we want to know, how has your degree from The British College helped you since you have graduated?
A college degree is more than just the certificate you are handed at your graduation. It goes beyond that piece of paper and simple academics and I say this from my own personal experience at The British College. I am forever indebted to my teachers for guiding and pushing me to strive for greatness. The four years I invested at the College shaped me to become a better professional and equipped me with the skills and knowledge I needed to be able to contribute as a crucial member of one of the fastest-growing startups in Nepal. As a Business Student, I got to participate and engage in several workshops that helped me to hone my communication, teamwork, critical thinking, and problem-solving skills - all of which are crucial regardless of wherever you choose to work. In addition to the professional connections that I amassed during my time at the College, I also gained the chance to explore my passion. I really am grateful for the four amazing years I spent at TBC and I now plan to continue my studies and pursue a graduate degree in data.
You have been working in marketing for the past two and half years since graduating. What can you tell us about how covid has affected businesses in Nepal during this time?
The disruption that COVID-19 brought was something none of us could have seen coming. The instability created by the pandemic caused behavioural changes in people that led to shortages of essential items, price hikes, and a disruption of markets. The initial phase was the worst with lockdowns imposed by the government to control the spread disrupting the economy. As a result, a lot of businesses shut down - and with them, the hopes and dreams of thousands of people. Having to fend for themselves with little to no support from the government has made it difficult for businesses and although the situation is now starting to return to normal, the frugality of consumers still hasn't changed.
And finally, what advice do you have for our graduating students?
I would advise them that this is the time to explore and gather as much knowledge as they can. When you jump into the real world and start working, prioritise learning new skills and developing yourself. And of course, don't forget to have fun on your life journey!
Thank you, Shalin! That's great advice and we wish you the best of luck with all of your future endeavours.