Our Top 10 Picks of What to Do With One Week Off in Nepal
Published on : October 30, 2023 at 09:59 AM
Published on : October 30, 2023 at 09:59 AM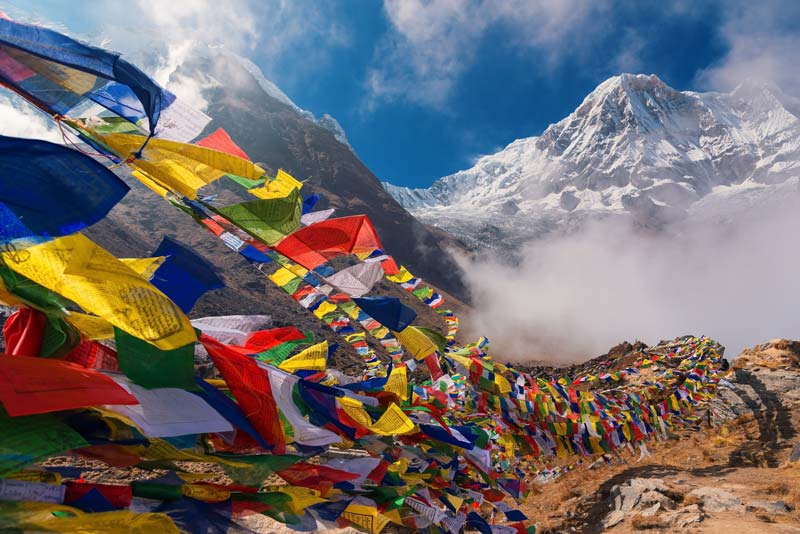 The festival season is upon us and as such most of the country is now anticipating a whole week off. So, with so many things to do in Nepal - stretching from a long local lunch to a 20-day trek … we decided to narrow it down and select the best things you can do to make the most of your one week of freedom! Enjoy!
Arguably one of the best ways to spend any festival is in the heart of the city. Whether you are celebrating Dashain playing cards and flying kites with friends and family, or you are a tourist wanting to see some of the oldest of the country's traditions - then this is the place to do it. Hit up all the Durbar Squares - Kathmandu, Patan, and Bhaktapur, and time your visits so that you can see costumes, dances, parades and if you're lucky even a living goddess.
If you want to experience the festivities but also witness some of Nepal's natural beauty then you don't have to go all the way to Manang to do it. Nestled around the Valley are many day and overnight trips that you can enjoy. From Nagarkot to Dhulikhel, Shivapuri and Chitlang - these local spots can offer you walks, waterfalls, rolling hills and on a good day, an incredible panoramic view of the mountains.
If you're feeling slightly more adventurous then there are a ton of short treks you can easily fit into your one-week break. You won't quite make it to Everest but these trips, ranging from one to five nights, will still challenge you whilst letting you witness some of the most beautiful sights in the country. Some of our favourites include Poon Hill, Annapurna Base Camp, Kalinchowk, Balthali Village, and Mardi Himal - so get your boots on!
Go on a Spiritual Journey
There is no greater spiritual journey in Nepal than going to Lumbini to visit one of the most sacred sites in the world - Buddha's Birthplace. Venture to this ancient landmark and explore the many temples surrounding it, each built in the style of a different country, making this a cultural experience like no other. If you're starting from Kathmandu this will be about a ten-hour drive - or alternatively, you can just hop on a half an hour flight.
Discover the Wildlife of Nepal
If you wish to see rhinos and tigers and everything else the Nepali wildlife has to offer, then there are two places that you can visit. One is Chitwan National Park which is around six hours from Kathmandu and the other is Bardia National Park which is 15 hours away (so we would recommend taking a short flight). And whichever one you choose you can look forward to a wealth of wildlife safaris, jungle treks and some wild adventures.
It is a known fact that there is no better place to unwind and enjoy yourself in Nepal than Pokhara. From boat trips to lakeside drinks and the best array of cafes and restaurants you'll find in the region - just pitch up and soak in the atmosphere if you want to use your week off to feel refreshed. You can also do a one-day detour and visit the enchanting hilltop town of Bandipur on the way, which offers an insight into old Nepal with its historically preserved culture.
It may be a landlocked country, but Nepal boasts some of the most beautiful lakes in the world. And if you want to go for a dip you can visit the pristine waters of Begnas Lake, which is just half an hour from Pokhara. Alternatively, if you want to go on a real adventure then you can take a flight to Jumla and embark on a journey to Rara Lake, a hidden gem in the remote Northwestern region, and swim in the pristine alpine lake nestled amongst breathtaking surroundings.
Nepal is renowned for its wealth of adventure sports and what better time to enjoy them than with a week off? You can go white water rafting on the Trishuli River, paragliding off the cliffs of Sarangkot, skydiving over the Himalayas - or if you're feeling really brave, take the plunge in Kushma and embark on the world's second-highest bungee jump in the world. There's also kayaking, rock climbing, canyoning … let's just say Nepal is the world's natural adventure park.
If you're looking for a unique way to fill your week, then head to one of the country's many yoga and meditation retreats. These range from expensive escapes in lush hotels to hardcore meditation at one of the famous Vipassana retreats - but be warned, these are not for the faint-hearted. Accepting donations only, this retreat forbids you from speaking or even looking at anyone else. We guarantee you'll leave the week with a brand new perspective though.
So we know we said there wasn't time to go to Everest - but if you have enough money you can do anything - and we warn you, this will set you back a fair bit. However, if you feel like splurging then you can get in a helicopter and see the mountains up close without breaking a sweat. You can also walk around Everest Base Camp and if you're feeling really flush, even have breakfast there! Seeing the world's tallest mountain is a surefire way to make this week a memorable one.
And that's it! Our top ten ideas for a week off - and don't forget a lot of these can be mixed and matched. You can swim in a lake, do a day hike and a bungee jump all in one week. So make the most of it - and from everyone here at The British College, Happy Dashain!
- Marney Ryan