'Finding Michael' Review: A Story of Privilege Told in the Himalayas
Published on : October 30, 2023 at 08:39 AM
Published on : October 30, 2023 at 08:39 AM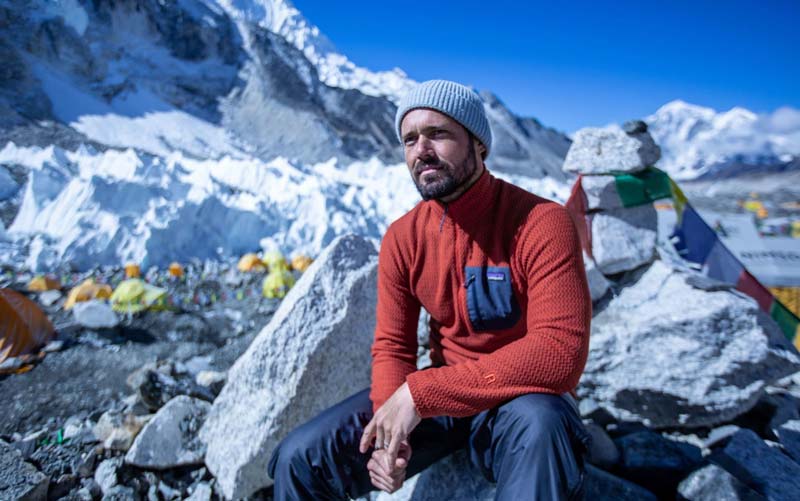 The 2023 documentary Finding Michael takes viewers on a journey to find Spencer Matthews' brother, Micahel, who in 1999 became the youngest British climber to summit Everest, but sadly died on the descent at just 22 years old.
Spencer Matthews rose to fame as a party boy on the reality show Made in Chelsea and in later years has redefined his image with his alcohol-free brand 'CleanCo.' and family-friendly podcasts with his model wife, Vogue. So this documentary is another step in this rebranding - and a chance to resolve a longstanding family desire to bring his brother's body home.
The documentary starts by telling us that someone sent Spencer a picture of a body on Everest back in 2017. Despite the body being face down, from the clothes and build Spencer suspects it could possibly be Michael's and has decided that now is the time to find out. To add some extra appeal and notoriety to the show, both known explorer Bear Grylls and famous Nepali mountaineer, Nims Dai are then introduced. Bear tells stories of having spoken to Spencer as a child about his brother and Nims accompanies Spencer on his journey to Nepal and subsequently to Base Camp where Spencer conducts the mission.
Without giving too many spoilers, at this point, it becomes hard to ignore some of the cultural insensitivity that disrupts this documentary. A huge discovery is made far too late into the production because no one sought advice from the actual Sherpas who grew up on the mountain - which leaves the second half of the show feeling somewhat anticlimactic. We then watch as they risk their lives while Spencer remains safe in luxury tents on Base Camp.
In general, it is clear that a large amount of money has afforded him this mission and despite an attempt to use this positively, it often reads as insensitive. His evident privilege can also at times clash uncomfortably with his surroundings in Nepal making for some problematic moments in the film. Towards the end, for example, there is a rather upsetting scene in which a Nepali family is filmed in huge distress as Spencer awkwardly watches on.
Having said that, the videos of his brother on the trek and the way in which they are played out against Spencer's own journey are undeniably touching. It is also clear through the interviews that Spencer and his family have been afforded some peace by being able to tell the world Michael's story. And if nothing else, the high production value of the show makes it a spectacular watch as you get to see the Himalayas in all of their glory, which is always worthwhile - you might just have to sit through some uncomfortable scenes to get there …
Finding Micahel can be viewed on Disney Plus or Hulu.
- Marney Ryan