A Triumph of Collaboration and Teamwork - My Experience at SPECTRUM 2023 by Aastha Thing (BBA L4)
Published on : August 17, 2023 at 09:40 AM
Published on : August 17, 2023 at 09:40 AM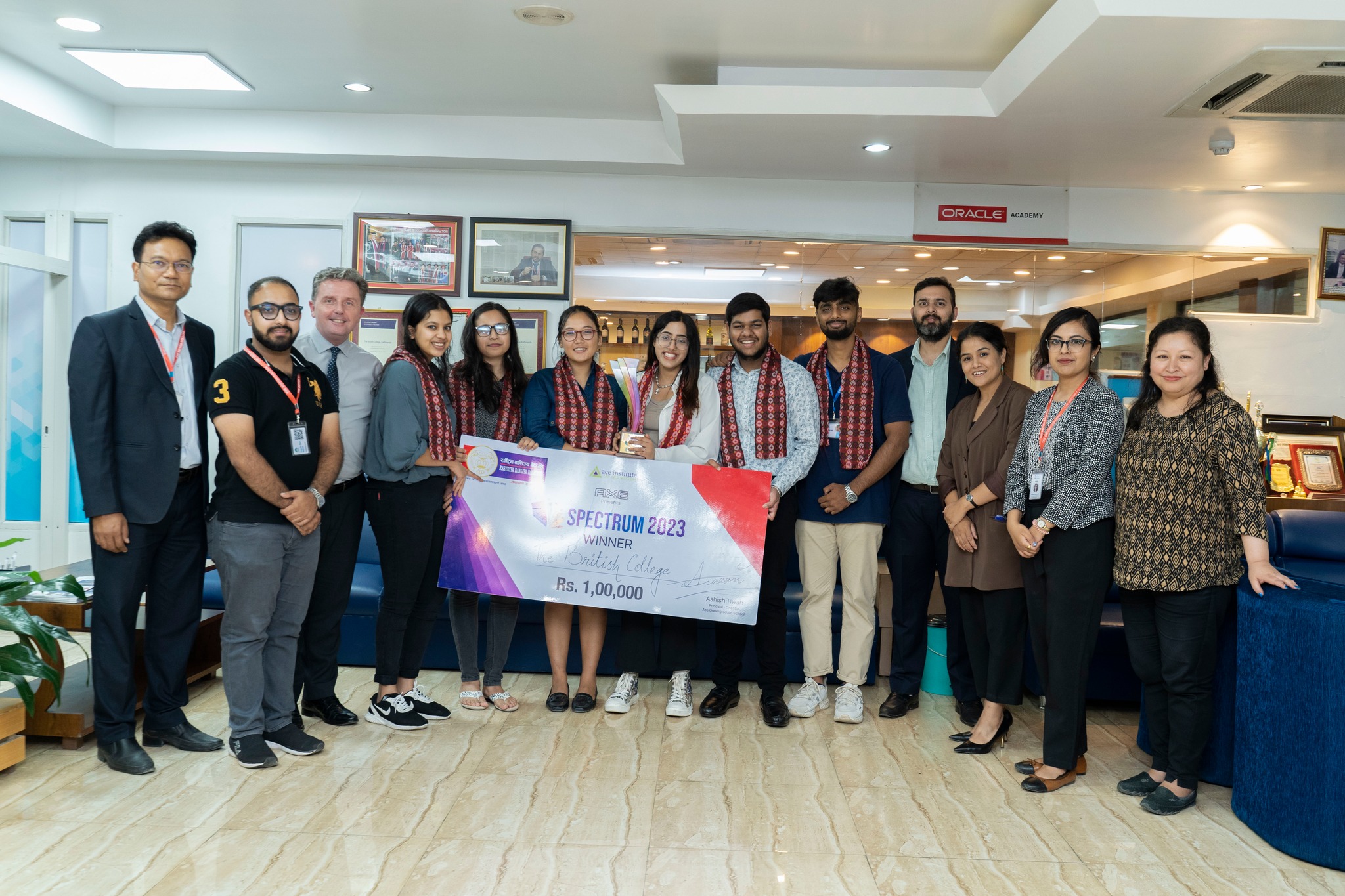 In the words of Helen Keller, "Alone, we can do so little; together, we can do so much". Little did we know just how profound this quote would prove to be throughout our unforgettable journey with SPECTRUM 2023.
The British College team, comprising of Dibya Karki, Dikshya Agrawal, Hricha Baral, Om Agrawal, Sachet Roy, and myself (Aastha Thing), had an incredible opportunity to represent our institution and emerge as the champions of SPECTRUM 2023, a prestigious national-level intercollege competition organised by ACE.
Over two intense yet exhilarating days, nerves and adrenaline coursed through our veins as each sub-event required us to put our best foot forward. Dibya and Dikshya, a force to be reckoned with, kicked things off by taking part in "Profit Pioneers," where they delved deep into the world of finance and brought capital to the team by playing 'Human Monopoly'. With entrepreneurship as her forte, Hricha then spearheaded the "Founders Forge," skilfully bidding for essential resources and in doing so, giving the team an upper hand.
On the stage of "Global Nexus," Om, with his expertise in international relations, navigated through press conferences and brought the best package for the team. Sachet, the marketing maestro, took the reins for "Marketing Catalyst" - creating innovative campaigns and advertisements. And finally, for the legal aspect, I came in - leading the "Courtroom Chronicles" with debates and allegation appeals that made me feel like a part of the cast of SUITS.
Like a team of Avengers assembled for battle, each member rose to the challenge during the Q&A round, tackling answers with their distinctive expertise. And the pivotal moment came when we were tasked with building a 3D flyover metro model of Kathmandu Valley. Despite the time constraints, we united our minds, brainstormed ideas, and efficiently divided the work, so that with strong collaboration and collective effort, we could bring an innovative vision to the model. Likewise, the Innovate for Impact module gave us a competitive advantage as we aligned our project with the principles of the UN Sustainable Development Goals (UN-SDGs).
In the end, the synergy within our team was the driving force behind our victory. The moment we were declared winners was simply surreal and euphoric, and Hricha and Sachet added extra icing on the celebration by securing first and third positions in their respective sub-events. Reflecting back, this experience has instilled in me a newfound belief in the importance of collaboration, perseverance, and self-learning.
The journey was filled with late-night research, numerous cups of coffee, and endless discussions - while stimulating tasks challenged us to think on our feet, offering a taste of the competitive real world where everyone strives for the top. Personally, it also provided a space to nurture new friendships and I would like to extend a heartfelt thanks to Subodh Rupakheti for his invaluable guidance and mentorship, along with the entire TBC faculty. For the team, this is just a stepping stone to endless achievements.