The British Model Graduation Ceremony 2023
Published on : October 2, 2023 at 05:27 AM
Published on : October 2, 2023 at 05:27 AM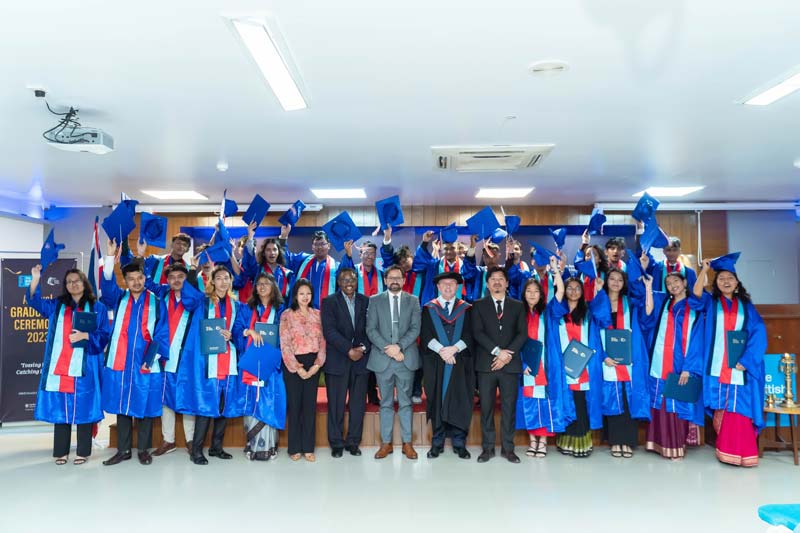 After holding two Graduation Ceremonies at the Hyatt Regency Hotel in Boudhanath on Friday, The British College ended a week of celebration with the British Model College (BMC) A Level Graduation Ceremony on Sunday 24th September.
Taking place in The British College Conference Hall, the event was opened by the CEO and Founder of the College, Mr Rajen Kandel who thanked the parents, faculty and special guests Christina Kandskar from The British Council and Akintola Akintoye from Leeds Beckett University for being there.
The Director of BMC, Mr Mahendra Kandel lit the panas and further speeches were delivered by the Deputy Principal, Dr Partick McCrudden and A levels Programme Manager, Mr Rajan Kumar Rai. Certificates were then given to the students to mark the completion of their A Levels journey and the 2023 Valedictorian, Sarwesh Karna spoke on behalf of his fellow students and delivered an inspiring speech.
When asked about the event, … said "We are very proud of how far our students have come and excited for all of the opportunities that lay ahead for them, now that they hold Cambridge qualifications equivalent to those delivered in the UK. We hope to welcome some here at The British College and at our new institute, The Westminster College in Kupondole - and we truly wish them all the best".