TBC Graduation 2023
Published on : October 2, 2023 at 05:22 AM
Published on : October 2, 2023 at 05:22 AM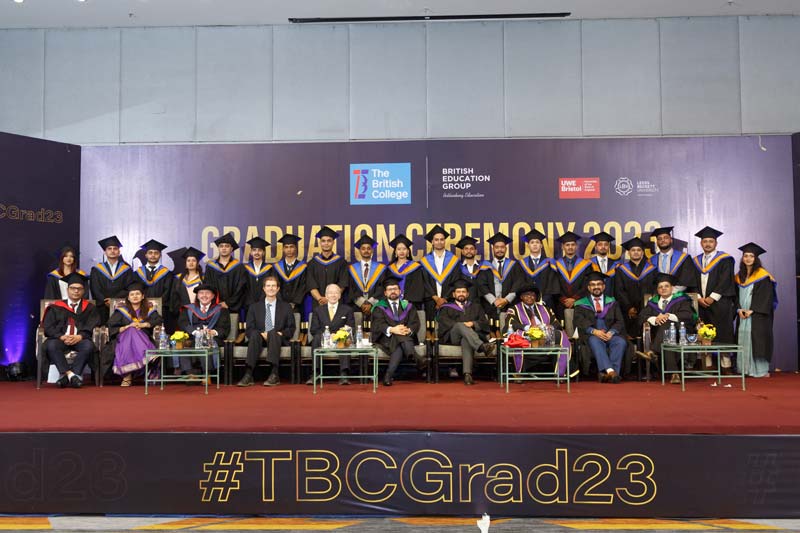 On 22nd September, The British College held the Graduation Ceremony 2023 at The Hyatt Regency Hotel, to celebrate the conferment of awards for Leeds Beckett University (LBU) and The University of the West of England (UWE).
This year the College welcomed a total of 407 graduates and their families, and hosted two ceremonies with Business students graduating in the morning and IT students in the afternoon. Distinguished guests from Nepal and the UK attended both sessions and Student Excellence awards were presented by TBC Advisors Mr Paul Cleves MBE and Fergus Lyon to Subodh Rupakheti, Sagar Jung Karki, Avantika Nepal and Pallavi Shrestha.
Mahendra Kandel, Executive Director of The British College, began the ceremony by lighting the Panas and Rajen Kandel, CEO and Founder of the College, then opened the event with a welcome speech. Special guests then delivered inspiring speeches, including Ms Heidi Tavakoli, Deputy Head of the Mission-British Embassy, and Advisors to the College, Mr Michael Rutland OBE, Prof Fergus Lyon, and the Honourable John Edward Hollister Montagu, 11th Earl of Sandwich, who sent a video message from the UK.
Representatives from the partner British universities also spoke at the event, including Prof Akintola Akintoye, Dean of the School of Built Environment and Engineering at Leeds Beckett University and Dr Paul Bennett, Dean of Partnerships and International and Interim Head of Business and Management at UWE.
Both events were a great success, with students celebrating after the ceremonies with photos and food with their family. Each graduate was then presented with TBC's first ever Yearbook so that they could remember the journey they had been on with us before becoming members of our TBC Alumni Community. Congratulations to them all - we can't see what they will go on to achieve next.