Students attend their graduation at UWE, Bristol
Published on : August 5, 2016 at 09:47 AM
Published on : August 5, 2016 at 09:47 AM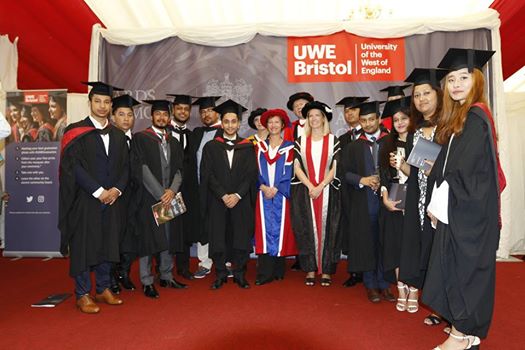 The British College BBA students (October 2012 Intake) attended their graduation ceremony this July at UWE, Bristol accompanied by their families.
The students met Vice-Chancellor, Professor Steve West, and Sara Bird M.A., Programme Leader for BA(Hons) Business Management with Marketing, Link Tutor for The British College, following the ceremony where they were congratulated for their achievements.
'It was an amazing experience to go to the UK, to visit the university, and to be awarded our degree by the UWE Chancellor,' said Elvis Ranjit, graduate and Executive Director of Illume Lighting Solutions Pvt. Ltd./ Arbitrary Productions Pvt. Ltd. Similarly, Sansar Chetri, another graduate noted that, "it was definitely an experience to be cherished for a lifetime!" Students praised TBC for providing such an immense opportunity to each and every student, an opportunity which should not be squandered. They expressed their motivation to work harder in order to reach their desired careers. Furthermore the students commented that "the teachers are a credit to the college; their attentiveness and hard work has been significant in enhancing our college experience". Overall, students were overjoyed to graduate at the UK University.
A further graduation for TBC students will be hosted in September 2016 in Kathmandu who could not attend the Bristol graduation, in order to celebrate their fantastic achievements.

Congratulations to every graduate. We are proud of you and we would like to extend our welcome to The British College Alumni community.