BMC's Annual Film Competition & Festival 2022
Published on : December 3, 2022 at 04:53 AM
Published on : December 3, 2022 at 04:53 AM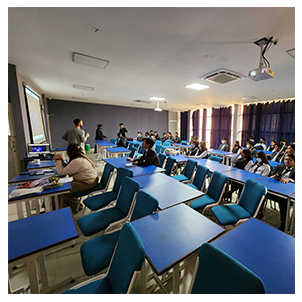 'Make Every Day Count'
That was the motto and proposed theme for BMC's Annual Film Competition & Festival 2022, which was successfully conducted on Friday, 11th November at the BMC school premises, Chakupat.
Under the watchful eyes of the Judging Panel, formed by Mr Rajan Kumar Rai (A Level Programme Manager), Ms Sabanam Thapa (A Level Administrator), Mr Ariel Moreira (Entrant CCA Coordinator), and Mr Christopher Kemp (Salient CCA Coordinator and organiser of the event) - a number of students from different classes applauded enthusiastically for their peers' productions, which were creatively delightful!
So, who did the award go to?
The inarguable winner of the Festival was 'Glimpse of Life', a short film created by AS Science students Priyamshu Thapa, Tshering Yangdol Lama, Shradda K.C., Utsav Bhurtel and Siddhartha Pun Magal. The masterpiece featured a girl who, worn out by the pressures of her work life, decided to quit her job to succeed as a viral social media influencer, reminding us of the importance of taking risks in order to pursue our dreams. The movie was entirely scripted by the students, and the scenes were shot within the College facilities.
And the runners-up were …
In the second and third positions were, respectively, 'A Day in Nature' (by Aavash Shah, Bipul Dhakal, Jenith Gurung, Piyush Rouniyar, and Sanket Ray) and 'The Fathomability of Every Second' (by Amar Kushwaha). Both works featured their own, unique, creative touch, with the first one offering an interesting mix of multi-screen, different-speed scenes showing a group of friends enjoying a forest walk together - and the second one displaying a set of ready-made videos wisely put together, with a voice-over that advised the audience on how to better enjoy life.
We are grateful to each of our students -
And want to thank them for their participation, and for understanding the importance of these events. As an educative institution, we are committed to not only ensuring good academics but also encouraging our students' creativity in different ways, as being creative is a crucial skill in today's world.
We can't wait to see who the award will go to next!