ACCA Trek to the Beautiful 'Old Ghandruk Village'
Published on : April 22, 2019 at 01:34 PM
Published on : April 22, 2019 at 01:34 PM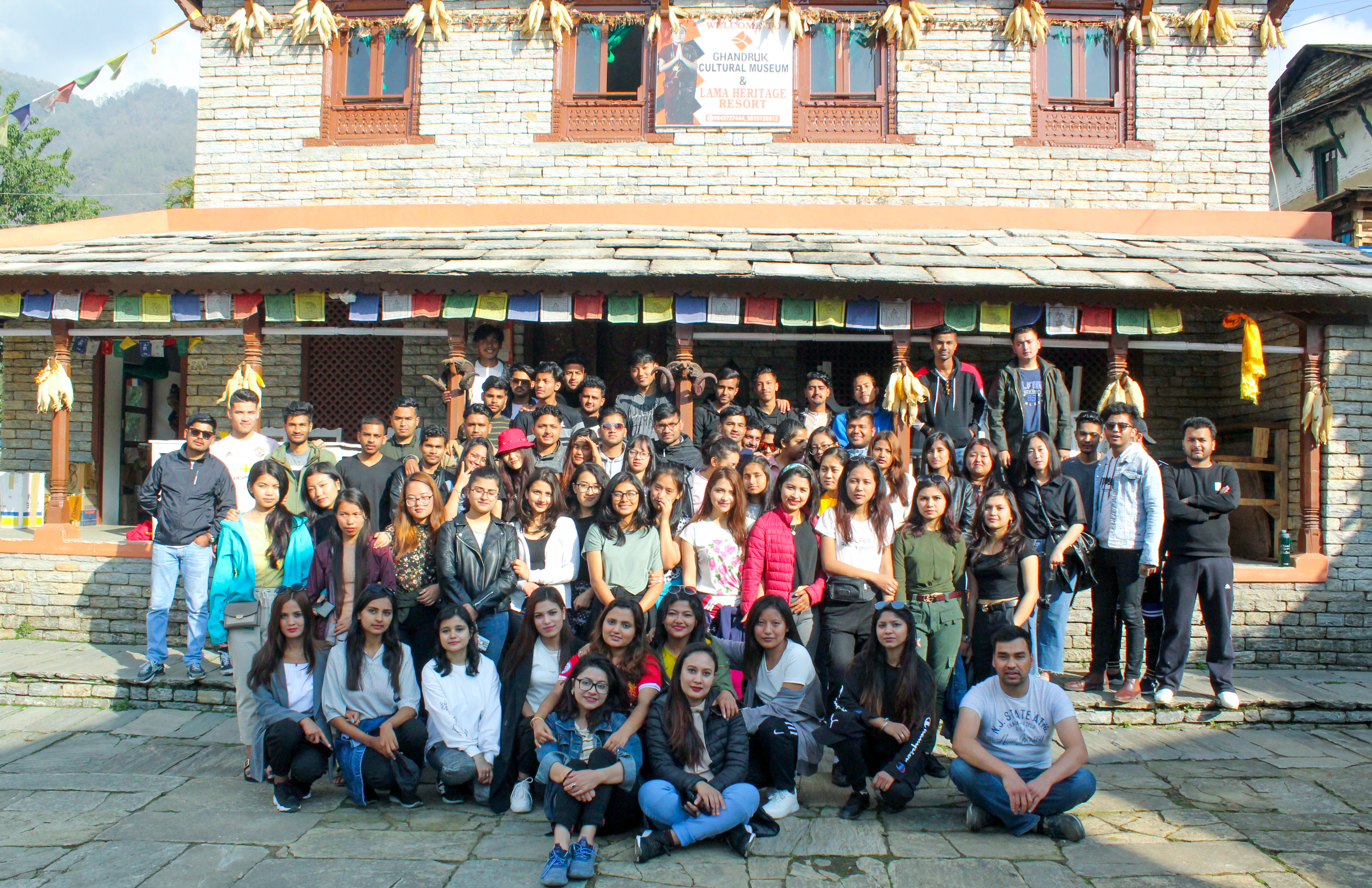 On 10th April, the students from ACCA went on a 4 day trip to Ghandruk, the most beautiful and popular village for short treks that can be reached from Pokhara. It is situated at an altitude of 2012m above sea level and is inhabited by the Gurung community, one of the ethnic groups of Nepal who are preserving their own religion and culture.
The journey began with a 6 hours drive to Pokhara, with a group of 64 students, 4 staff and one ACCA faculty member along with 3 guides. After travelling for another several hours from Pokhara, the students reached Heaven View, Ghandruk, for a nights stay. The students experienced the warm hospitality of the Gurung family at the Cottage, while enjoying some delicious local dishes.
The next morning, after breakfast, everyone gathered for a briefing from the guide and the trek for the Old Ghandruk Village began.The major highlights of Old Ghandruk Village were the picturesque villages, epic Himalayan views and the wonderful culture of the Gurungs living in the village. The students were also entertained by the Gurung dances during the trek and had the opportunity to wear the traditional Gurung dresses and ornaments.
Our students had a wonderful experience throughout the trek to Old Ghandruk Village. The village had a friendly vibe to it and offered some amazing views of the dense rhododendrons, magnolia forests and beautiful landscapes, along with Himalayan giants such as the Annapurna, Hiunchuli and Machapuchare. It was also an amazing opportunity for the students to explore the beautiful Gurung village and their culture.
After three hours of trekking and sightseeing, the group headed back to Pokhara and had a nights stay at Hotel Bien View. The next morning, after breakfast and a short briefing, students gathered for a bus tour of pokhara with a local guide. The tour included many fun-filled activities such as the visit to Shanti stupa and Devis Falls, shopping by the pokhara lakeside market and much more.