How to Stay Motivated During the Pandemic
Published on : January 31, 2022 at 06:13 AM
Published on : January 31, 2022 at 06:13 AM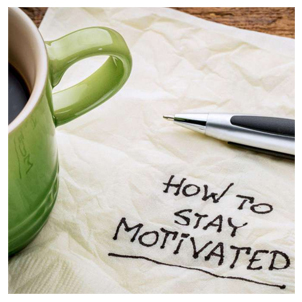 How to Stay Motivated During the Pandemic
By Marney Ryan
Staying motivated during the pandemic has been a challenge for everyone. So are we re-start online classes, let's look at the four key areas you should focus on to get motivated and get going!
Structure Your Day:
At College, you have a specific routine that makes you feel motivated as you know exactly what you need to do each day. So you need to create the same sense of structure at home to encourage you to get up and get going.
Plan Ahead: Try to create some tasks for the following day the night before, establish a morning routine, and set up a study space. That way you will wake up with a sense of purpose, a plan, and a routine to help guide you through the day.
Set Realistic Goals: Make sure your goals are realistic. Just as achieving them will motivate you, not achieving them could be demotivating. Remember to factor in breaks so you can get a realistic sense of time and allow yourself the opportunity to unwind.
Make a List: To help create your routine, write down your top tasks, things you'd like to get done, and things you can do if you have time. This way you can prioritise and as you tick them off you will be left with a sense of achievement.
Factor in Fun: Remember not all tasks and goals have to be study-related. To stay motivated you need to be happy and healthy - so schedule some safe social activities, exercise, family fun, and downtime.
Keep Active: It can be very hard to find the motivation to exercise when you are in a lockdown or quarantining. However, it is scientifically proven that even short bursts of exercise can produce serotonin and make us feel more positive and motivated - so factor it into your routine.
Track Your Success: One of the best ways to stay motivated is to see the results of your success. Note how good it is making you feel and use one of the many free apps available to record your activity and visualise just how much progress you are making.
Make it Fun: Rather than seeing exercise as a chore, see it as a welcome break from work. If you are allowed to exercise outside then use this as an opportunity to get some fresh air. If you can meet with a friend then find a workout buddy and if not - then use facetime to keep it social.
Stay Healthy: Comfort food is one of our biggest go-to's when feeling down but it really can make you feel worse. What we eat affects our mood, immune system, and energy levels - so make sure you are eating the right foods to keep you feeling positive and motivated.
Get Online: Being home all day is no excuse not to exercise. From yoga to weight lifting - there are thousands of free videos and resources online to help you convert your room into a gym. You can also use apps to set reminders, guide your workouts, and connect with your friends.
Practice Mindfulness: Whether it be yoga, meditation, or something else that works for you - practising for just a few minutes every day can make a big difference. Not sure how to get started? Then there are tons of free videos and apps for you to explore to help get you started.
Rest: A good night's sleep can make a world of difference and taking time to relax and recharge throughout the day is just as important. If you are feeling anxious, however, sleep can be hard so if you are struggling, try listening to sleep music or stories to help switch your brain off.
Take a Break From Social Media: Covid is anxiety-provoking for many reasons - so reading the news, especially potentially fake news, can make it even worse. Take a break occasionally and remember - you are staying safe, this will end, and you will get through it.
Stay Connected: When we are not feeling our best, it's easy to go into our shell and stay away from everyone - but actually talking to someone is sometimes exactly what we need. Whether it's a quick call, a study group, or a whole zoom party - make sure to stay connected.
Ask for Help: The most important thing to take care of during a time like this is your mind. So if you notice you are struggling then talk to someone. Whether it's a friend, family member, college counsellor, or other licensed professional - help is out there so don't be afraid to ask for it.
Reward Yourself: It is easy to measure our day by what we haven't achieved but try to turn that around and instead give yourself small rewards when you accomplish a task or goal – having something to look forward to makes it easier to stick to tasks you may not want to do.
Shake off the Guilt: With so little to do, we put a lot of pressure on ourselves to get a lot done. But how can we possibly get everything done if we don't take time to relax and refresh? So shake off the guilt, accept some days are less successful than others, and start afresh tomorrow.
Take Care of Yourself: With that in mind - remember that the small things can make a big difference. Being outside (if and when we can), doing a creative hobby, reading, or listening to music - just do whatever works for you to clear your mind, reset, and re-motivate.
Let Yourself be Angry: We have all had to make enormous adjustments, and it can be unsettling and stressful - so don't add more pressure on yourself by forcing yourself to be positive all the time. Find a way to deal with your anger in a healthy way and move forward.
Be Your Own Cheerleader: We are so good at boosting our friends but it's not always so easy to simply be kind to ourselves. There is no better form of motivation than boosted self-esteem - so remember to keep reminding yourself just how well you are doing. You've got this!
At The British College, keeping our students safe and healthy has always been our biggest priority. So if you need advice remember we have a counselling service that is available for all of our students. We are proud of how well you are all doing and are always here if you need any extra motivation.