Motivation From ACCA World Topper Riya Manandhar
Published on : January 31, 2022 at 05:52 AM
Published on : January 31, 2022 at 05:52 AM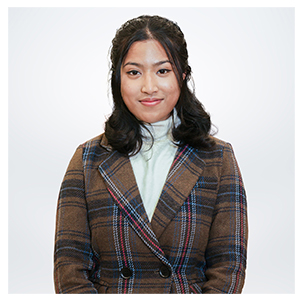 Student Voice
Riya Manandhar
Motivation From a World Topper
This month The British Professional College (BPC) announced that one of their ACCA students ranked first in the world for her exam results in December 2021. Meaning, at just 19 years old, Riya Manandhar received 98% in her taxation paper, and became a world topper! So who better to ask for tips on staying motivated through a pandemic and making sure you still get top results - even when you are studying from home.
"Hi, Riya! Well, first things first - Congratulations! So, how does it feel to be a world topper?"
Well, it was a big surprise to me as I just wasn't expecting it. But when it finally sunk in, the first people that I told were my parents. They were so proud of me, which made me feel like I had accomplished a lot. Moreover, the love and support that I am receiving from everyone right now mean so much to me and I really hope that I can give back as much to the community, as they have given me.
"As a world topper - what do you think is the key to success in ACCA?"
The first thing is to believe in yourself. Be confident in your skills and abilities, and never give up! ACCA requires hard work, dedication, and perseverance. Therefore, if you give these three, you will be able to achieve your goals.
"Okay, and finally - as classes are once again online due to the pandemic, what advice do you have for our students about staying motivated during this time?"
Staying motivated during the current pandemic can be difficult, but you can make it easier for yourself by having a proper schedule and taking care of yourself. During this time, make sure to prioritise your mental health and try meditating as this really helps to calm down your nerves. During the classes, try to stay active and communicate with your teachers and friends as much as possible. Through this, you will be able to re-create the community that you had on campus.
That's great! Thank you so much Riya and congratulations once again!.
Edited and compiled by Marney Ryan