From a Student at TBC to the Organiser of The Hult Prize
Published on : February 28, 2022 at 08:21 AM
Published on : February 28, 2022 at 08:21 AM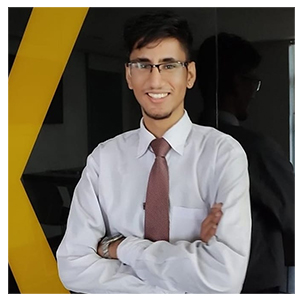 Becoming the Organiser of The Hult Prize
"My Journey and How I Got Here"
By Grisham Tiwari
" … The major takeaway for me has been to realise that waiting for the correct opportunity to come to you at the right time, when you are in the right phase of mind, is too rare to actually occur. It is upon you to take the time right and be prepared … "
Accredited by Forbes with one of the most important social entrepreneurship awards in the world, the Hult Prize, in partnership with the United Nations, is the world's biggest engine for the launch of student-led, for good, and for-profit start-ups.
Every year over 1500 university students from all around the globe participate in a challenge to bring a change to their respective societies. Named the "Nobel Prize for students", and ranked amongst the world's most innovative companies by Fast Co., and as one of "Top 5 Ideas Changing the World" by TIME Magazine - Hult Prize has trained over one million youths on the impact of entrepreneurship over the past decade.
The main aim of this challenge is to ignite the fire of social entrepreneurship in students and to help them inculcate habits of leadership and self-reliance. As such the movement has deployed more than $50 million of capital into the sector, and mobilised and empowered millions of young people to rethink the future of business.
I am the Campus Director of Hult Prize at The British College for the year 2021/22 and this programme has really been an important chapter in my life. It has helped me to change my perspective towards social change and develop an entrepreneurial mindset. And I believe that this will be one of the greatest learning experiences I will ever have, as I will get to explore various applications of quotes and theories into actual real-life situations.
Participating in extracurricular activities always coaxed me, be it at school or college. When I joined The British College, I was lucky enough to have found seniors and faculties who shared the same mentality as me. And it was this supportive environment on the campus that inspired me to look after learning from different programmes.
As such, I was able to go from being a student at the College to organising the first On-Campus Programme for other students at the College. The journey is enthralling but it is also a learning curve. Reminiscing about the programme makes me remember all those people who encouraged me to apply for the post, helped me to conduct the programme, and stood by my side throughout the journey.
As a Campus Director, I not only get the opportunity to work with amazing people but I am also learning the importance of teamwork, leadership and communication while working with them. I've been working with TBC Students in my organising committee since the first TBC Job Fair and I believe that a team with a common goal can eventually lead to the success of any endeavour. When people with an alike mentality work for a similar goal, the work becomes easier and the working environment is motivating.
I have learnt a lot from this programme, both on a personal and professional level. But the major takeaway for me has been to realise that waiting for the correct opportunity to come to you at the right time, when you are at the right phase of mind, is too rare to actually occur. It is upon you to take the time right and be prepared.
I always believe that the will to do something is as precious as your ideas. I really appreciate seeing all the participants, from multiple backgrounds, equally elated about the results and without a tinge of jealousy or partiality - and it is then that I realise the true spirit of competition.
This journey has changed me. Before, I used to wait for any opportunity to come to me but now, I realise it is we who create our chances. The only thing we should keep doing is to try and evolve, be better people than we were yesterday, and be the change that we wish to see in society.
Tough times require quick and sustainable decision making and through the programme, we learn to analyse the situation and decide upon the right course of action. As Professor Dumbledore in Harry Potter once said, "It is not our abilities that show what we truly are. It is our choices." We should always strive towards positive choices and work with dedication towards achieving our goals.