The British College's Partner - Top 20 in the UK
Published on : October 12, 2020 at 11:31 AM
Published on : October 12, 2020 at 11:31 AM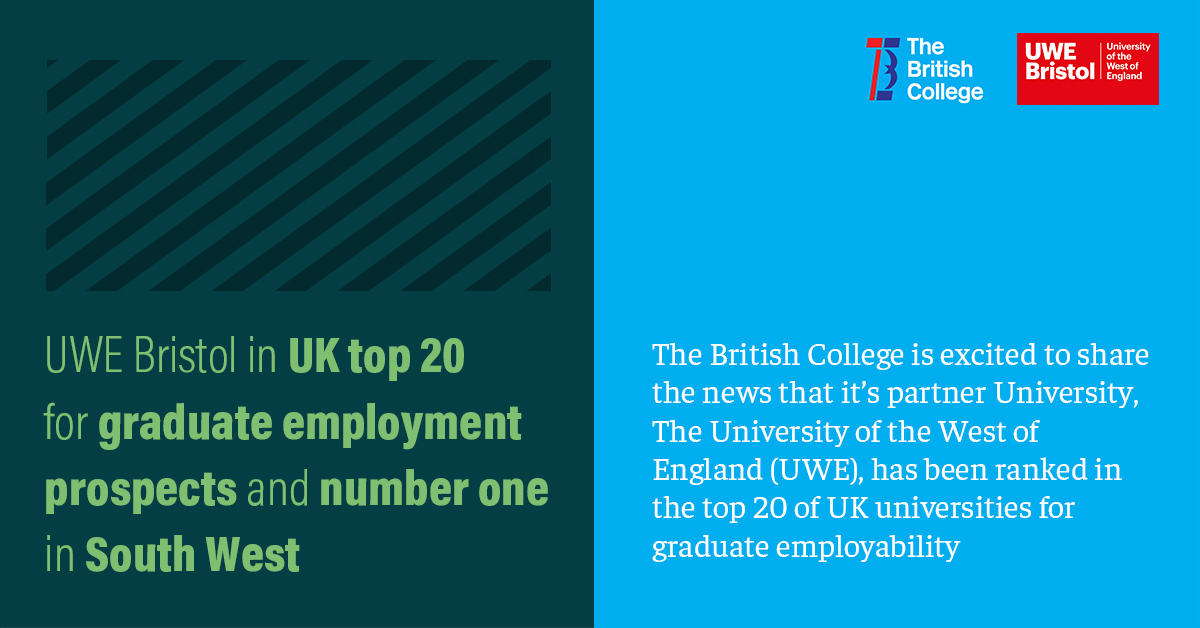 The British College's Partner - Top 20 in the UK
The British College is excited to share the news that it's partner University, The University of the West of England (UWE), has been ranked as one of the top 30 universities in the UK - and is in the top 20 of UK universities for graduate employability.
The new Graduate Outcomes Survey results, which are released by the Higher Education Statistics Agency (HESA) every year, revealed that 92% of UWE graduates are in work or further education within 15 months of graduating. This is the biggest annual social survey of it's kind and confirmed that UWE is number one for employment prospects out of all the universities in the South West and number 18 in the whole of the UK - coming higher than 134 of its competitors.
Graduates from the British College who study the BBA and MIBM, receive a degree from The University of the West of England. As graduates from UWE they are a part of an alumni from a university that its vice-chancellor, Prof Steve West, revealed is, "number one in the University Alliance for its impressive employment records and positive graduate employment prospects".
UWE is also a wonderful place for inclusiveness - boasting employment rates that are 2.5% above the average for Asian, Black, and Minority Ethnic graduates. In a world where employment is an increasingly competitive market, making sure that our students are prepared to be resilient for the workplace with core and adaptable skills, is of the utmost importance to TBC and UWE. That is why we are so proud to have been partnered with them for the past 8 years.
Our interim principal, Professor Mary Bishop said of the achievement, "It is excellent news to see our partner university UWE entering 'the table of tables', the key league table in the UK. Already awarded a Gold for teaching excellence, this is further recognition of UWE's excellent work on student experience and employability. Delighted to add my congratulations to this achievement." We would like to join Professor Mary in congratulating UWE, and all of our students who have graduated from there, on this wonderful news.