One Day Training - Drugs Prevention, Control and Abuse
Published on : June 24, 2016 at 04:12 AM
Published on : June 24, 2016 at 04:12 AM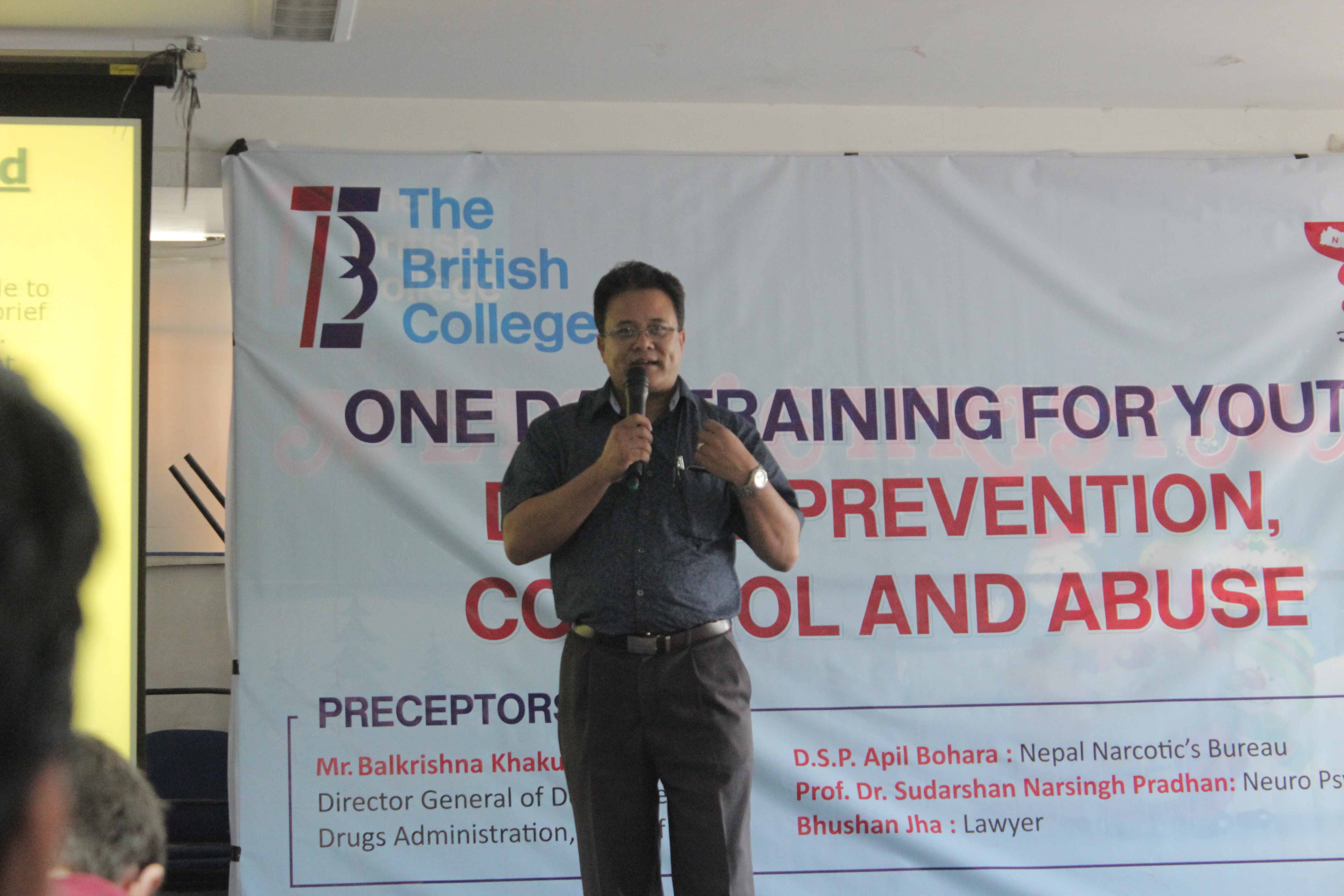 The British College conducted one day training on Drugs Prevention, Control and Abuse for students at The British College Seminar Hall. This programme was organised in collaboration with Nepal Chemist & Druggists Association.
In the programme, Director General of Department of Drugs Administration, Mr. Bal Krishna Khakurel, D.S.P. of Nepal Narcotic's Bureau, Mr. Apil Bohara, Neuro Psychiatrist, Prof. Dr. Sudarshan Narsingh Pradhan and Lawyer, Mr. Bhushan Jha gave an informative presentation with beneficial training. Secretary General, President, Vice President and Treasurer, Mr. Samrat Man Joshi, Mr. Niranjan Prasad Rijal. Mr. Dhruba Narayan Shrestha and Mr. Ajay Pradhan of NCDA were also present in the event.
The Programme was adorned by our Operations Director, Mr. Bimal Raj Pathak with a warm welcome to our high-esteemed guests. This awareness programme included training to help teenagers fight drugs, strengthen personal commitments against drug use, increase social behaviour and reinforce attitudes against drug use.
The training started with a lead from Mr. Bal Krishna Khakurel and Mr. Bhushan Jha. Preceptors described about prevention, control, misuse and the consequences of drug abuse. Further, Dr, Sudarsan gave an outstanding demonstration on medical detoxification. D.S.P. Apil Bohara highlighted statistics about drug addicts and the fine for them from Nepal Police. He drew the attention of students by sharing tragic incidents recorded in Nepal Police due to drug case/drug crimes which definitely must have given the audience a goosebump. He correspondingly illustrates the behavior of drug user, which could help us all in identifying drug users. All the speakers targeted their exceedingly revealing messages to both A Level and higher level students (Bachelors and Masters).
After the talk session an interactive session was held whereby the students were encouraged to come up and make queries. At first it seemed students were slightly apprehensive, but after a short while many students were eager to get involved, from queries to sharing examples, to prevention measures to control – what an efficient platform! We are sure this session was a real essential for the youth, and will help to guide them in the right direction.
The British College has identified the need for similar training for parents which will further be planned in the near future.
A huge thank you to the valued personnel for an efficacious training, guidance and an interactive programme which has indeed encouraged the youth to adopt a healthy social life.