Four BMC Students Become Nepal Toppers
Published on : March 29, 2022 at 06:45 AM
Published on : March 29, 2022 at 06:45 AM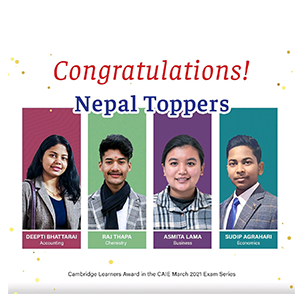 The British Model College (BMC), sister school to The British College, is proud to announce that four of its A-level students have been awarded with Outstanding Cambridge Learners Awards.
The British Model College offers a wide range of A-Level qualifications to its large body of students, four of which received the Cambridge award following the CAIE March 2021 Exam Series. Becoming Nepal toppers in their respective fields were Raj Thapa, in A Level Chemistry; Sudip Agrahari, in AS Level Economics; Asmita Lama, in AS Level Business; and Deepti Bhattarai, in AS Level Accounting.
Rajan Kumar Rai, Head of A-levels, said of these wonderful achievements, "The British Model College is very proud of their incredible success. Receiving this award requires a lot of dedication and sincere effort, and we feel fortunate to have such talented students".
This is the first academic year that BMC students are studying at the brand new campus in Chakupat - and this incredible result demonstrates the Colleges unique learning environment, internationally recognised faculties, and world-class learning resources.
BMC is fully committed to facilitating students to achieve their highest capabilities. The College was recognised for its accomplishments at the 'Outstanding Cambridge Learner Awards 2018' and hopes to see even more students receiving 'Top in the Country' awards in the coming year.