Education Partner in Nepal Youth Entrepreneurship Summit
Published on : September 12, 2023 at 09:54 AM
Published on : September 12, 2023 at 09:54 AM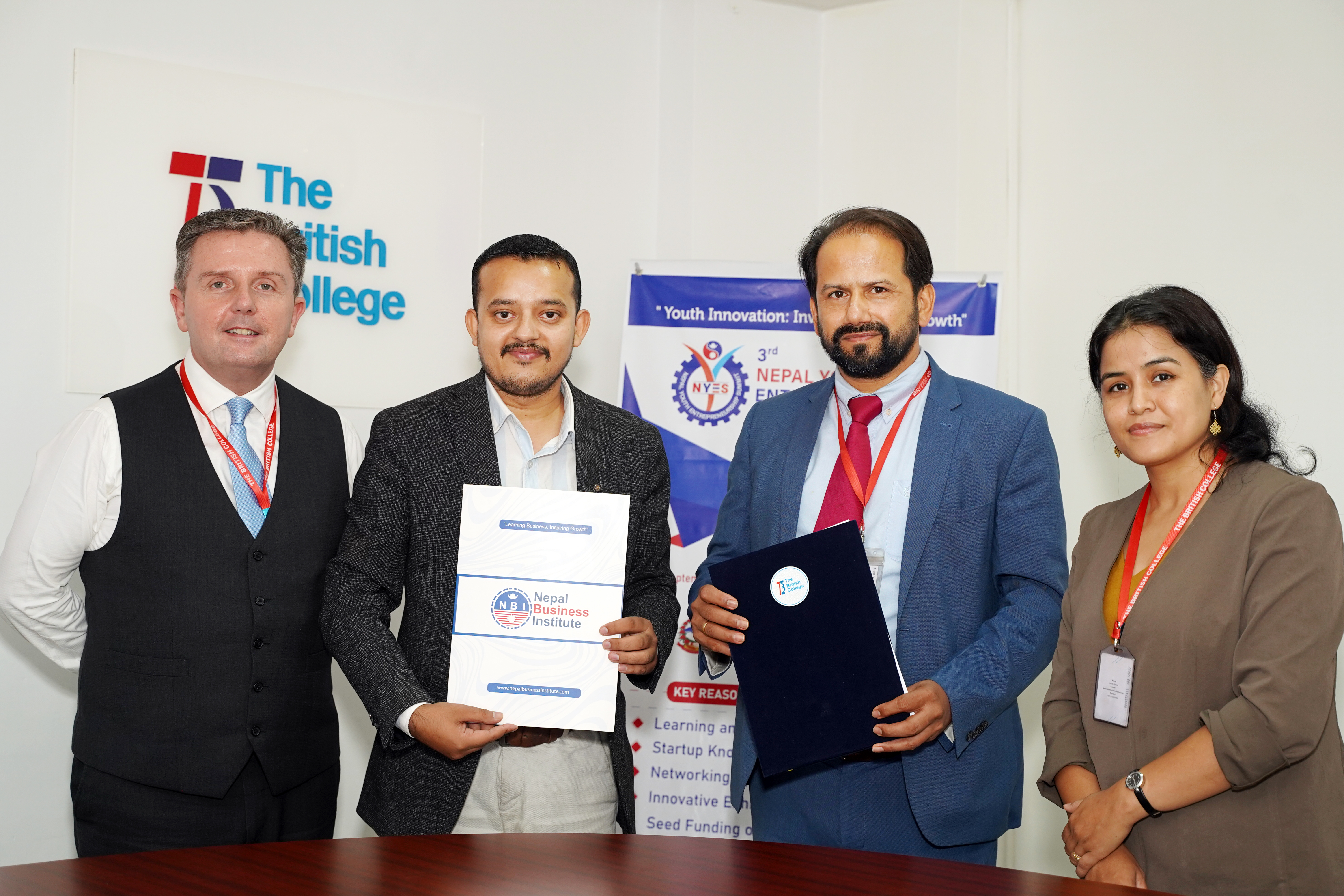 The Nepal government is all set to host the third edition of the Nepal Youth Entrepreneurship Summit. Run in collaboration with the National Youth Council and the Nepal Business Institute (NBI), the Summit has now partnered with The British College and promises to be a truly significant event.
The summit is poised to be a pivotal platform for translating the Youth Entrepreneurship Vision Document-2030 into action, with the ultimate goal of driving prosperity through youth entrepreneurship in Nepal. And this year's theme is 'Youth Innovation: Investment and Prosperity'.
To formalise the collaboration, this week Bishal Gaire, one of the key organisers, along with Mahendra Raj Kandel, the Executive Director of The British College, signed a memorandum of understanding.


Kandel used the opportunity to express his enthusiasm for how this summit will immensely benefit young entrepreneurs deeply involved in startups and innovation within Nepal. He added "The British College's partnership aims to nurture entrepreneurship, promote digital transformation, and uphold the standards of education. This collaboration isn't just about innovation, but also about putting practical programmes into motion".
Gaire, the coordinator of the Summit, then underscored the importance of motivating young participants, by providing support for startup ventures and cultivating a sense of partnership between youth and the government. He further clarified that this involves acquainting them with policies, programmes, and budgets.
This is expected to be a huge event, with over 500 young entrepreneurs from 70 different districts participating. Due to the significance of the event, the Summit will be inaugurated by the Prime Minister and more dates and details will be released soon.