Grooming Session and Placement Day Agreement with Merojob
Published on : April 21, 2019 at 08:10 AM
Published on : April 21, 2019 at 08:10 AM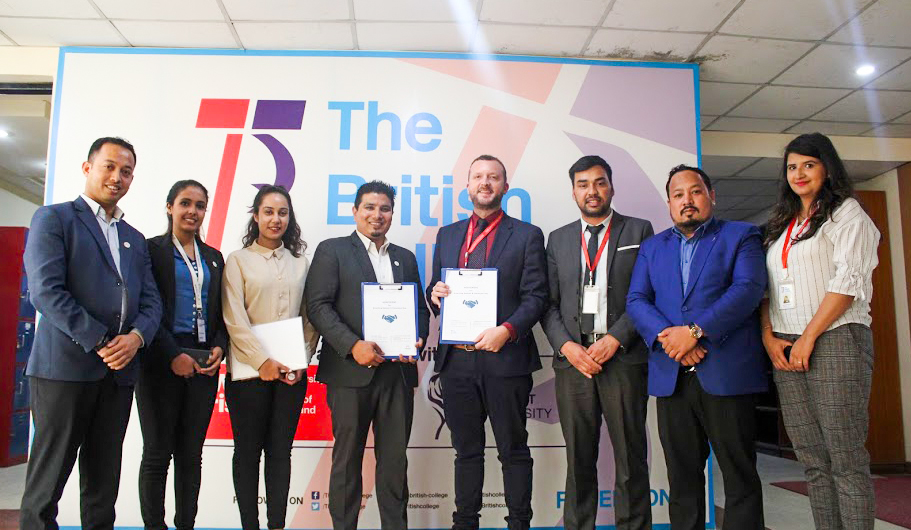 On 18th April, The British College and Merojob signed an agreement organising a Grooming Session and Placement Day for TBC students. The session is designed in collaboration with Merojob to help the students to develop into competent and dynamic professionals, that portray confidence when carrying and presenting themselves in front of people in formal situations.
This agreement includes five workshop sessions on Personality Development, Resume and Cover letter writing, Group Discussion, Communication Skills and Interview Preparation. Each batch will be covered over a minimum of 5 days, with 5 sessions that will be 3 hours each, making 15 hours in total. These sessions will be available for all the BBA, BSc (Hons) Computing, MSc IT, MBA, MIBM and ACCA students. During the whole session, trainers will lead, facilitate, and train participants in brainstorming, writing, sharing, listening and developing outstanding examples of career, job opportunity, Resume/Cover letter,and interview skills. By the end of the training, students of The British College will be aware of tips and techniques for preparing their professional resume, facing real interview environments and be ready for the Placement Day.
On Placement day, Merojob will invite relevant companies who have live vacancies. Here the company representative will conduct one to one interviews with the participants who have taken the Grooming Session.
The Principal, Joey Foster Ellis, said: "This agreement will benefit our students to grow as competent and dynamic professionals, while developing the practical aptitude necessary to succeed in various private business' or in the public sector".