The British College Confer 3rd Batch of Graduates at Annual Graduation Ceremony
Published on : September 19, 2017 at 06:45 AM
Published on : September 19, 2017 at 06:45 AM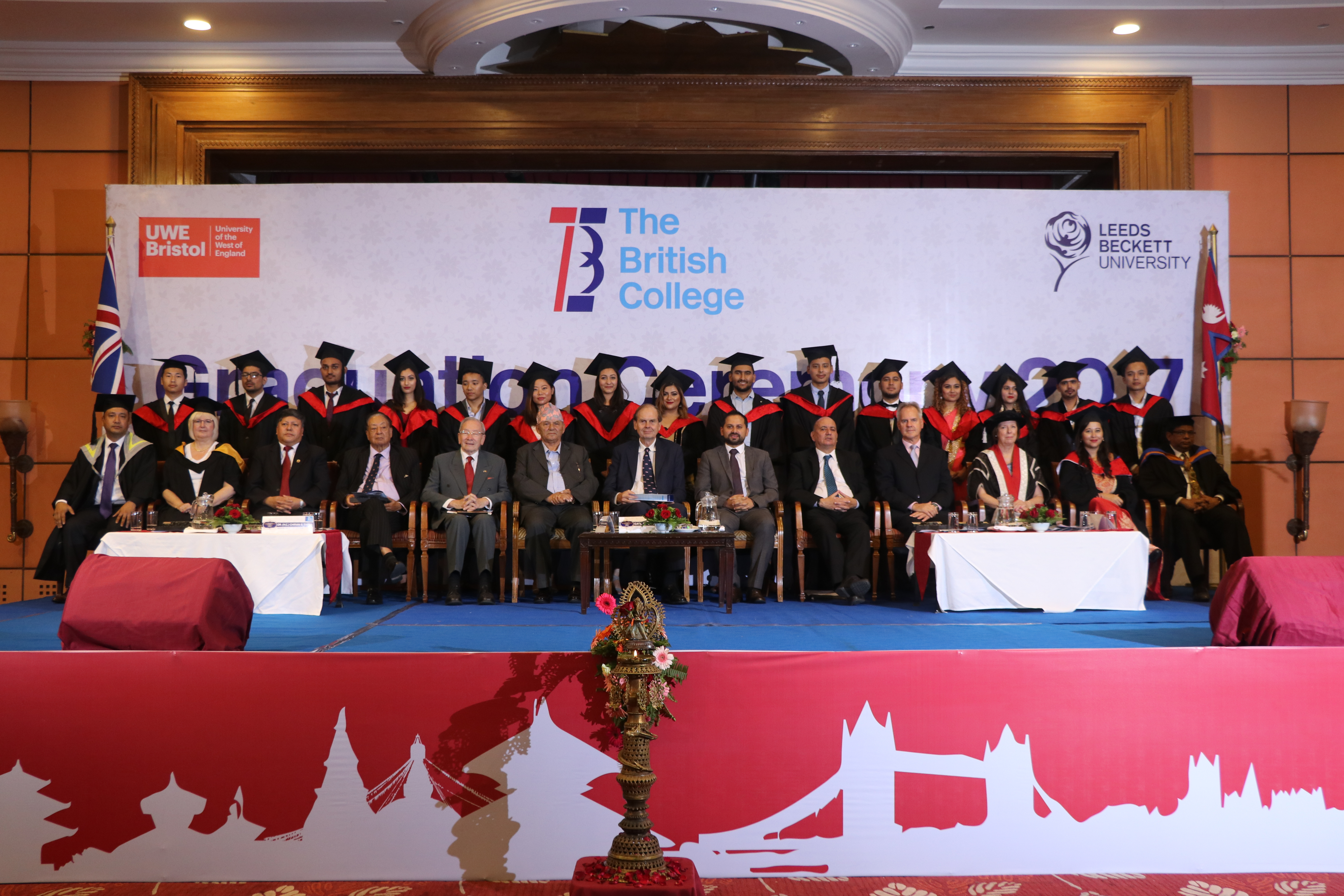 The hard-work and tenacity of all students and staff at The British College was recognised and rightfully rewarded on friday in the celebration of the completion of their degree programmes. 69 students graduated with BBA (Hons) Business and Management; 28 with MSc International Business Management from The University of the West of England, Bristol and 104 students with BSc (Hons) Computing from Leeds Beckett University. This is the largest graduating batch to date showing a big growth in the success and popularity of the college.
The event attended by students, staff, parents, friends and honourable guests was held at the extravagant Soaltee Crowne Plaza, a fitting venue for such incredible success and merriment. Representatives from both the awarding universities, Patricia Voaden, Head of Department for Business and Management, UWE and Ms. Lesley Earle, Principal Lecturer of Leeds Beckett, attended the event; they expressed their extreme pride and respect for the graduating students and delivered motivating advice to the graduands in preparation to embark on their professional careers. The event was also attended by The British College Advisors, the honourable John Edward Hollister Montagu (11th Earl of Sandwich), Dr. Chiran Thapa (Accredited Educationalist), Mr Michael Rutland (The British Honorary Counsel in Bhutan), Mr Paul Cleves (Former Head of Geography at Eton College), Dr. Ganga Lal Tuladhar (Former Education Minister to Nepal) and Dr. John Bateman (Principal of The British College) who were delighted to be involved in the celebration. Special guests H.E. Richard Morris, Her Majesty's Ambassador to Nepal and Ms Bhawani Rana, President of FNCCI took the opportunity to recognise the significance of the student's success and to instil students with hope in their futures.
The students were jubilant to receive their degrees alongside their course mates and friends. Many emphasised the support they received from their family, friends the dedicated staff at The British College in their journey to complete their degree. One MIBM graduate, Mr Nitendra Dhakal eloquently shared his experience; accrediting his parents for their support and perseverance, the college for its invaluable teaching and opportunities whilst instilling hope and impetus in his fellow graduates
In the ceremony CEO, Rajen Kandel expressed his great pride in the students and the institution. The British College, established in 2011 has grown to be a unique educational institution and his dream to make an international education accessible to Nepali students has become a reality. The students he suggested are the true ambassadors of the college and he is eager keep in contact with them, to follow their future success.
The ceremony was followed by further celebrations as graduates joined with their parents and friends for photographs and food. It was the perfect way to end a very memorable day. The event was a huge success and all those involved were honoured to be involved. The staff at TBC wish the graduates the best of luck in all their future endeavors.