Becoming a Champion at the Ace Spectrum
Published on : August 1, 2022 at 06:59 AM
Published on : August 1, 2022 at 06:59 AM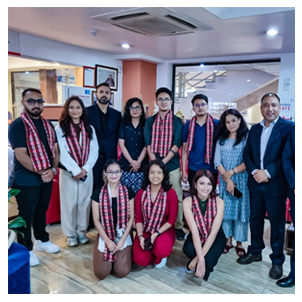 On 9th July, Ace institute of management organised a national level inter-college management
festival in Nepal - and The British College were invited to take part.
The two day event saw contenders from 23 different national and international colleges competing in various subheads. This event of crucial testing of managerial skills and abilities was followed by a series of tough challenges, including press conferences, debates, and live acted-advertisements - which were all used to test who should be the champions of Spectrum.
Despite the fierce competition,The British College team was proven champions of the
subhead, "The Fantastic Troupe". The TBC team was made up of students from Level 5, Subodh Rupakheti and Tejaswi Rana; and Level 6, Ruby Shah, Rachi Adhikari, Sunanina Joshi, Ayush Shrestha, and Sandesh Pandey - who all fluently showcased the meaning of team-work and brought their team to victory.
There was also an immense illustration of pragmatic application of module learnings. This included stress management, contingency planning, and enhanced communication skills. The recognition of core competencies in each contender made the team optimise their resources within the time constraints.
The win of TBC in Spectrum 2022 shows true visualisation of the quote, "Tough times don't last,
Tough teams do." The shared success of seven contenders on this event is truly
inspiration to all budding individuals to having willingness, to grow, and to learn.